I knew what I was getting myself into when I decided to catch a viewing of Moonrise Kingdom this past Monday. Having seen almost every film Wes Anderson has ever released (so what if I took Latin 1 last semester because of Max Fischer in Rushmore, so what!!!) I was already familiar with the director's distinct style. His love for primary colors! Neat title fonts! Adorable fashion! But of course, beyond being aesthetically pleasing, Anderson films are just so enjoyable to watch. Moonrise Kingdom is no exception.
The year is 1965. Being at camp still isn't the preferred summer hangout spot so two pen pals escape to a romantic getaway (read: the woods), fully equipped with wilderness gear and a record player. What's better than young love? Nothing.
The boy and girl who play the lovebirds (Jared Gilman and Kara Hayward as Sam and Suzy) may not be immediately recognizable faces, but the rest of the cast is certainly star-studded. Bill Murray and Jason Schwartzman (both Anderson film regulars) are joined by Bruce Willis, Tilda Swinton, and Edward Norton who provide even more talent to the flick.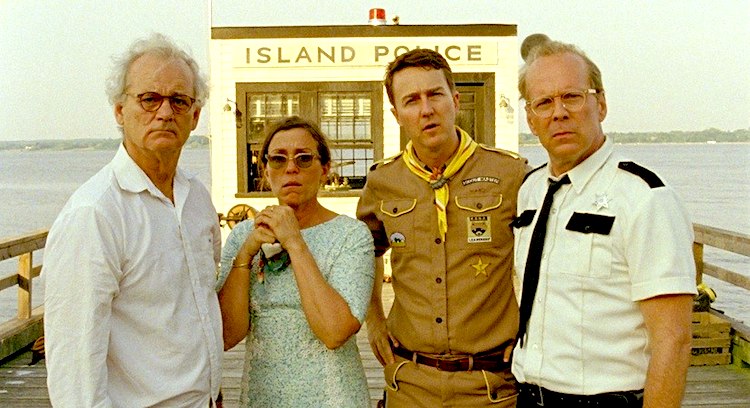 Moonrise Kingdom will you keep you engaged the entire time, since the quirkiness of each character is hard to ignore. Each has his or her own motivations, flaws, and awesome outfits, so if you're not interested in every second of this movie I really don't know what to say.
Though this is definitely an Anderson film, there is one way it differs from the rest of his projects, and that is this: it might be the cutest thing I have ever seen. The beautiful locations, gorgeous set pieces, playful humor...I loved every bit of it.
I can't tell you how many times I said "Oh my God, that is SO CUTE" during the showing. But I can tell you it was an obnoxious amount and that right there should be an indicator of how many good feelings this movie will give you, even if it is wonderfully dark at times (but still beautifully light-hearted!!). I left the theater nostalgic for an era I never even lived in, as well as desiring a white-collared, white-cuffed pink 60s dress.
Be sure to catch Moonrise Kingdom at your local theater today if you want to fall in love with a movie that has an innocent charm and youthful sense of adventure. And by "today" I mean "immediately".
Sheila Wagner is currently the Editor of BARE Blog and puppet of the Illuminati. Always up for a concert and an adventure, sometimes she doesn't finish her senten